Click the 'Sign up' registration form on the top right hand menu and fill out the registration form.
The Job Application Form
When a candidate clicks on the 'Apply' button of a job listing they will then be taken to the application form. This form is written by Winemasons.com staff and is not editable. The application form asks the candidate to write a cover letter, attach either a pdf resume or submit their online winemasons.com resume. They will also be prompted to answer some key questions including country of passport and whether they have any criminal convictions.
When the application form is submitted, a notification email will be sent to the candidate and also to the employer to confirm their application has been sent/received. All applications will be saved to the employers dashboard.
Once an Application's status has been set to "Hired", the message "This position has been filled" will appear on the job listing.
Viewing applications via the employer dashboard
When you login to your dashboard you will be able to manage your jobs and view any applications that have been sent.
This will show the number of applications per job listing. Clicking the number (when there are applications) will reveal the application list: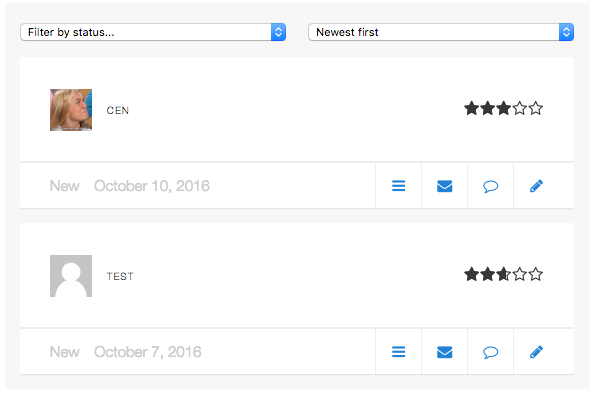 Above the applications you can choose to filter by status. Statuses include:
New
Interviewed
Offer extended
Hired
Archived
You can also choose to sort the applications by date, name or rating.
Each application card has some icons which can be clicked:

In order:
View description
View attachment
Email candidate
Private notes
Edit
The Resume Submission Process
Resumes can be created by logged in users using the resume submission form.
Upon visiting the form, step 1 lets the candidate input resume details including:
Their name and contact details
Upload a 20-60 second introduction video
Their content/summary for the resume
A category and some skills (enabled via settings)
Their websites – users can add as many as they want
Education and experience – again, users can add as many of these items as they want.
Step 2 is a preview where candidates can see how the resume will look. From then they can click back to edit the resume further, or click submit to go to step 3 where a confirmation is displayed. The candidate has the option to click the 'pdf' button to download their online resume in pdf format which they can use to apply for any other jobs.
Create Custom Alerts
Job Alerts is a service available to all logged in candidates. When they log in, an alerts management page can be viewed where you can add, preview, enable, disable, edit and delete email alerts. Alerts can be configured based on keywords and job types.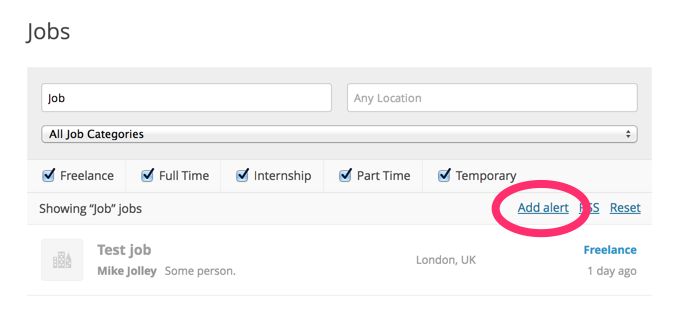 Create email alerts based on searches
Using the job filters to search for jobs? If you are logged in,  you can save your search as an alert using the 'add alert' button.
Daily, weekly 
&

 fortnightly email alerts

Email alerts can be configured to be sent with several different intervals. Alerts are sent in plain text format and list all matching jobs posted during the interval.
Frontend Job Submission
Employers can list jobs easily from the frontend. The forms allow employers to input job details, including job description and location, and also add details about their company.
Each listing can be assigned either an email address or an external  website link which job seekers can use to apply to the job.
Employers can preview their listing before it goes live. The preview matches the appearance of a live job listing. After preview, the employer can submit the listing or edit it further.